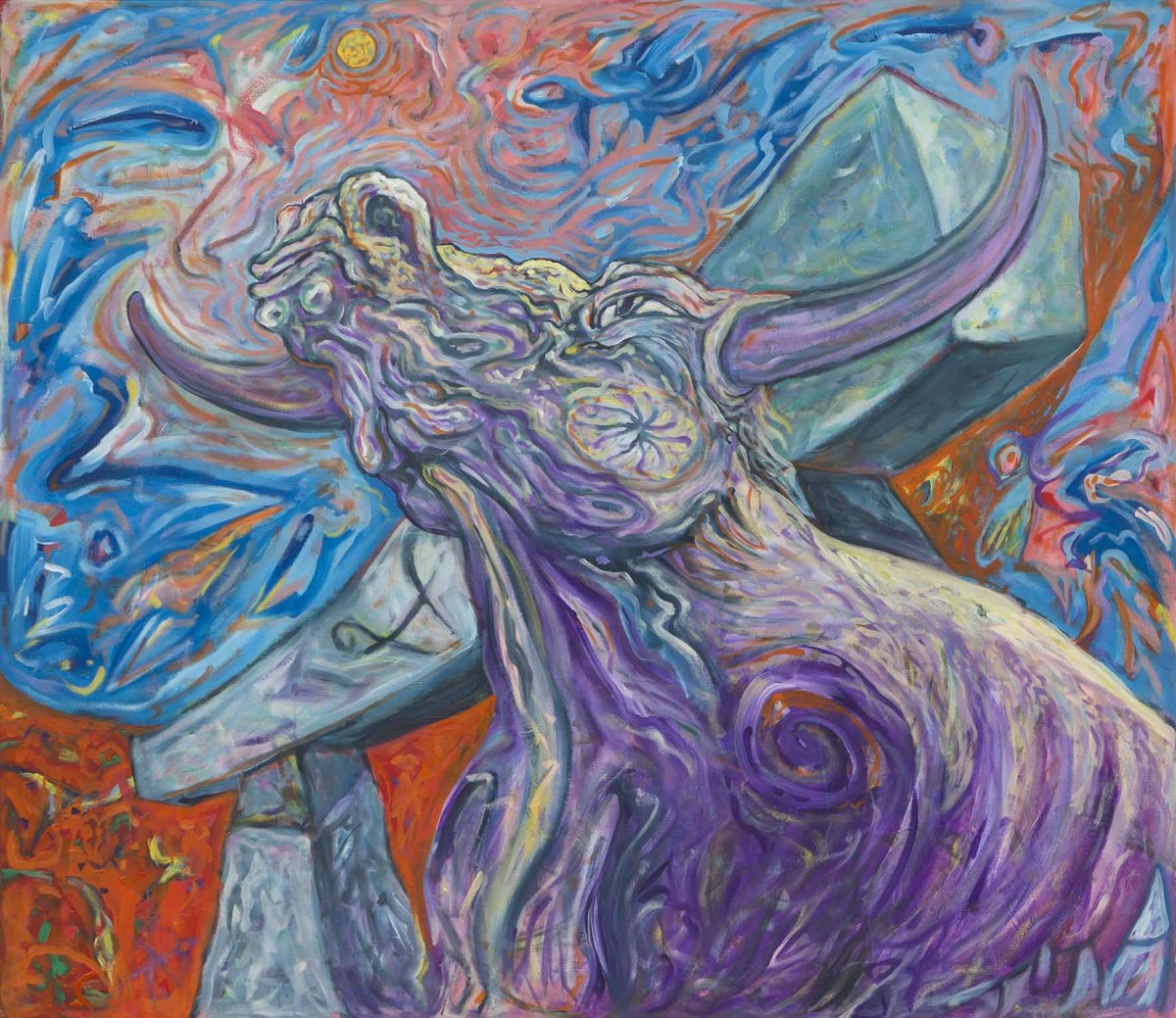 Klavdij Tutta, Mediterranean Traveller
On the 60th anniversary of the birth of Klavdij Tutta, Kromberk Castle has prepared a retrospective exhibition, which covers all of the artist's creative cycles, from the early 1980s to the present day. "Klavdij Tutta is a Slovenian artist of Mediterranean breadth, which he creates with optimism, cheerfulness, topicality and all earnestness amid his daily problems, while remembering the Mediterranean vastness with a view of infinity, which can be limited only by one's personal horizon" writes Milena Koren Božiček.
Tutta's artistic oeuvre stems from an admiration of the Mediterranean, karst, coastal landscape which is transformed into an imaginary landscape through selected images and symbols. According to Miklavž Komelj, "one rarely meets a painter so attached to a specific landscape. Even though Tutta has been living in Kranj for almost a quarter-century, and prior to that attended secondary school and the Academy of Fine Arts in Ljubljana, his native Goriška region remains his promised land, which marks his works as the genius loci." A distinctly fairy-tale, magical dimension appeared in his works very early on. His early paintings were characterised by a dynamic, gestural stroke with abstract forms saturated with colours. After that came the cycles with an expressive stylisation of the animal world and landscape. The most common motifs were horned bulls who filled the visual field with a considerable degree of aggression, as symbols of the vital power of the Mediterranean, in dialogue with the menhirs, the stone monoliths, ancient symbols of people's beliefs. "The images of bulls, which are the painter's most typical emblem, were at first connected with an evocation of sacrifices, phallic eroticism, burning in the webs of the sun, and trembling in the quivering of the stars, if I make use of the suggestive titles ... But soon they began to gradually transform into idyllic, friendly young bulls, reminiscent of children's toys, until eventually simplified into purely linear symbols, practically ideograms, in his latest paintings" writes Miklavž Komelj. The central theme was still the Mediterranean with its cypresses, birds, dolmens, and small horned bulls, which the author continued to compile into new compositions on a flickering background, constructed from tiny strokes of colour. In recent years, Tutta's view has become focused on the marine landscape. The central motifs thus became ships, lighthouses, piers, and man's relationship with the infinite sea horizons. In parallel with his cycles of paintings, he continuously created graphics, drawings, various objects and assemblages from various materials.
About the Artist
Klavdij Tutta was born in Postojna in 1958 and grew up in Nova Gorica. He graduated in graphic arts from the Academy of Fine Arts in Ljubljana in 1982 and then took up postgraduate study, likewise in graphic arts, which he finished in 1984. Tutta's subsequent artistic development was significantly influenced by his study travels around the world, especially by his residency at Cité Internationale des Arts in Paris in 1995. He has held over 240 independent exhibitions, and has taken part in more than 370 group exhibitions at home and around the world. He has received 62 national and international recognition awards for his work. Klavdij Tutta is the initiator of many fine arts manifestations, including the international fine arts workshop "Slovenija, odprta za umetnost / Slovenia, Open to Art", on Mount Sinji Vrh above Ajdovščina. He organises cultural events and is a cultural animator for young people. He is engaged in painting, graphic arts, sculpture, design and interior design.
Location: Kromberk Castle
From: 19 Apr 2018
Till: 30 Sep 2018
Authors of the exhibition:
Katarina Brešan, David Kožuh
Authors of texts:
Katarina Brešan, Miklavž Komelj, Milena Koren Božiček, Brane Kovič, Enzo Santese
Design:
Boštjan Komel