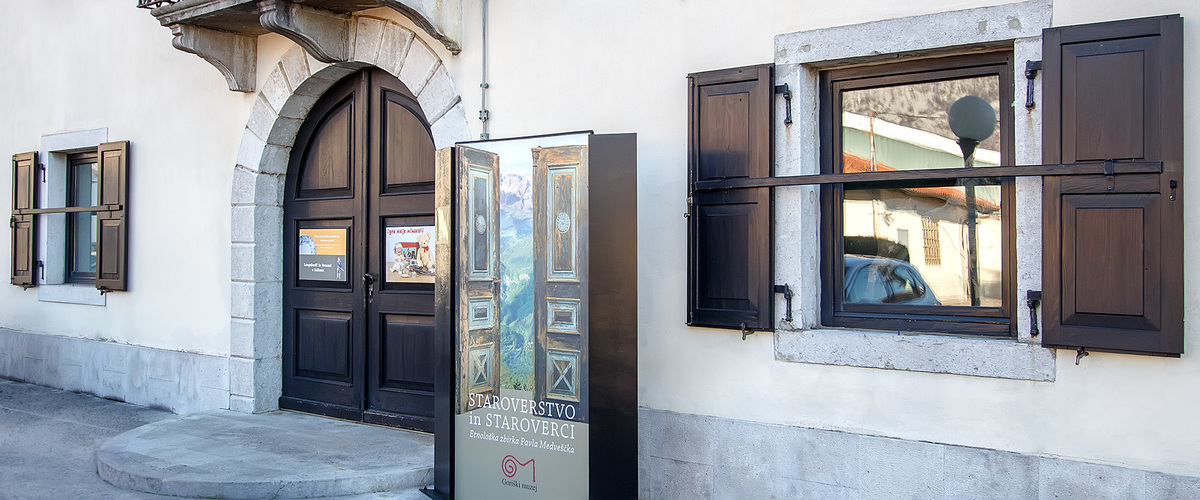 Villa Bartolomei
This countryside mansion was built in the second half of the 18th century. It lies in the area called Žabji kraj in Solkan. In 1798, it was bought from the Werdenberg state fund by Friderik Bartolomei, who had moved there from the Italian town of Pergine near Trento. The mansion remained in the possession of his descendants until the middle of the 20th century. The building that had been damaged in the 1976 earthquake, was acquired by Goriški muzej in 1980, with the intention of setting up a museum collection of contemporary history. The following year, the interior was redesigned into a museum exhibition space, according to the plans of Bodgan Mikuž. Two buildings stand next to the villa; the building on the left houses conservation workshops and prison administration, while the right building houses prisons. Located on the left side, before reaching the courtyard section of the villa, is the new administration of Goriški muzej together with the curators' offices and the library, which were set up in 2012. In the years to come, Villa Bartolomei will be added the missing left wing of the main building, which will be similar to the one on the right. Furthermore, a new building is planned in the location of the current conservation workshops, which will satisfy their needs. A new building is also planned on the right side, which will house a multipurpose hall, storage and exhibition spaces. As a result, the plan for a museum complex will be brought to fruition.
Villa Bartolomei is a two-storey building with a preserved Late Baroque design, which is visible especially on the north facade with a pronounced central axis and a massive stone portal on the ground floor, beneath a balcony with a steel fence on the first floor. Behind the building is a smaller park with a round stone pool containing a fountain. Near the mansion is an outbuilding which used to be used as a wine cellar and stables, but which today houses the workshops. The originally planned complex was never fully realised.
Opening Hours
Saturday and holidays: 15.00-19.00
Sunday-Friday: closed
Closed: January 1, Easter,
November 1, December 25
Visit outside the schedule is possible upon prior announce.